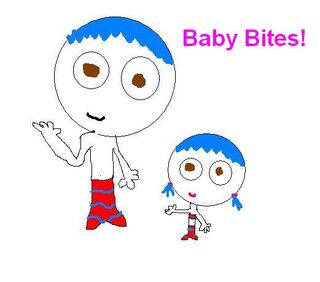 Baby Bites is the First Episode of Lachlan's Series.
Characters Present
Plot
Lachlan is woken up by a screaming noise by his mother so he runs downstairs to see what's going on, then he realises that he's left alone while his parentsm are off to the hospital to give birth to Lilia. When his parents came home with baby Lilia in eir hands Baby Lilia bites Lachlan, leaving him very hurt and upset.
Songs
Transcript
Lachlan: Come on, let's go to bed mr. Squiggles.
Lachlan's mum: *Screams*
Lachlan: *Wakes up* what was that?
Silence*
Lachlan: *Get's out of bed* c-c-come o-on mr. s-squiggles. L-let's go a-and see.
silence*
Lachlan: *Walks to mums' room* Mum?
Nobody is there*
Lachlan: *Sqeezes mr.squiggles* Daddy?
1 hour later
Lachlans mum: David (Lachlans' dad) We shouldn't have let Lachlan stay alone.
Lachlans' Dad: *Trips over Lachlan* Lachlan!
Lachlan: Mummy! Daddy! Where in the world did you go!! *sniffles*
Lachlan's mum: *Hugs Lachlan* We went to the hospital, dear
Lachlan: *Crys* but i was scared and.... *Spots a little guppy* Who's that?
Lachlan's mum: Your sister.
Lachlan: my what?!
Lachlan's Dad: Your sister, her names Lilia
Lachlan: *Wails* I Didn't want a baby sister!
David (Lachlans' dad): Come here. Just hug your sister.
Frankie (Lachlans' mum) : *Hold Lilia* Here.
Lachlan: *Touches Lilia's face*
Lilia: *Screams and bites Lachaln*
Lachlan: *Crys* Owww! She bit me!!!
Ad blocker interference detected!
Wikia is a free-to-use site that makes money from advertising. We have a modified experience for viewers using ad blockers

Wikia is not accessible if you've made further modifications. Remove the custom ad blocker rule(s) and the page will load as expected.