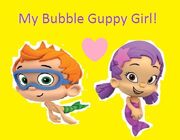 11 year old Oona Shaskan is obsessed with death. Her mother is dead, and her father runs a funeral parlor. She is also in love with her English teacher, and joins a poetry class over the summer just to impress him. Nonny Pirruccello, her best friend, is "allergic to everything", and sticks with Oona despite her hangups. When Oona's father hires Ms. Jenny, a makeup expert, in his funeral parlor, and begins to fall in love with her, Oona is outraged and does everything in her power to split them up.
Cast (Characters from the real movie)
Edit
Information
Edit
Genres: Drama, Family, Romance
Rating: PG for little romance, little violence, some cursing, a bit of drugs, and many sad/scary scenes.
Type of flim: Coming-of-age.
Love Couples: Oona x Nonny, Oona x Mr. Grouper, Harry x Miss. Jenny.
There are regular and fanon characters in this story.
There is a sequel to this story. It's "My Bubble Guppy Girl 2!" It takes place 2 years after this story.
Ad blocker interference detected!
Wikia is a free-to-use site that makes money from advertising. We have a modified experience for viewers using ad blockers

Wikia is not accessible if you've made further modifications. Remove the custom ad blocker rule(s) and the page will load as expected.