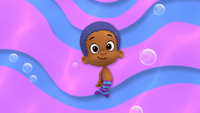 Goby
Name
Goby
Age
7
Voice Actor
Jelani Imagi,Marleik Mar Mar Walker,Issac Ryan Brown,Jacob Ewaniuk
Personality
Edit
Goby Imani is a boy creative Guppy with a vivid, offbeat imagination. He is best friends with Gil.He loves putting on costumes, telling stories, and speaking in silly voices. Goby does not keep his imagination to himself, instead he uses it to invent exciting outdoor adventure stories for his friends to act out. Goby loves to bring his friends together for some adventurous imaginative play both in the classroom and on the playground. He likes to eat turkey sandwiches and cran-apple juice and he also likes to wear baseball caps. He has feelings for Deema. Along with Deema he sings few of the dance songs.
Goby has indigo hair, dark brown skin, and brown eyes. His tail has wavy blue and purple stripes. Goby is African-American due to his dark brown skin.But in Zach and Leah's greatest adventures he wore a blue dress and wore a blue cardigan.He also wore green and white striped leggings like Molly.
Relatives
Edit
Goby is the only male guppy with a substitute singing voice.Goby has told a lot stories during outside time.
Goby's favorite color is unknown, though it is most likely green.
Deema flirted with him during the shop segment in one episode but it's unknown if he noticed it or not.
Goby likes to collect rocks.
Goby has been shown to have a forgetful side.
Goby has the same personality as Borealis Boy Jovanno,and even shares the same traits.
Goby seems to be the most intelligent out of all the guppies,other than Nonny and shamir
Hair lighter
Skin lighter
Tail thicker
Eyes are closer together
Nose sticks out
Ad blocker interference detected!
Wikia is a free-to-use site that makes money from advertising. We have a modified experience for viewers using ad blockers

Wikia is not accessible if you've made further modifications. Remove the custom ad blocker rule(s) and the page will load as expected.